"Senna"
Snoweyriver Rain Spirit

Frozen semen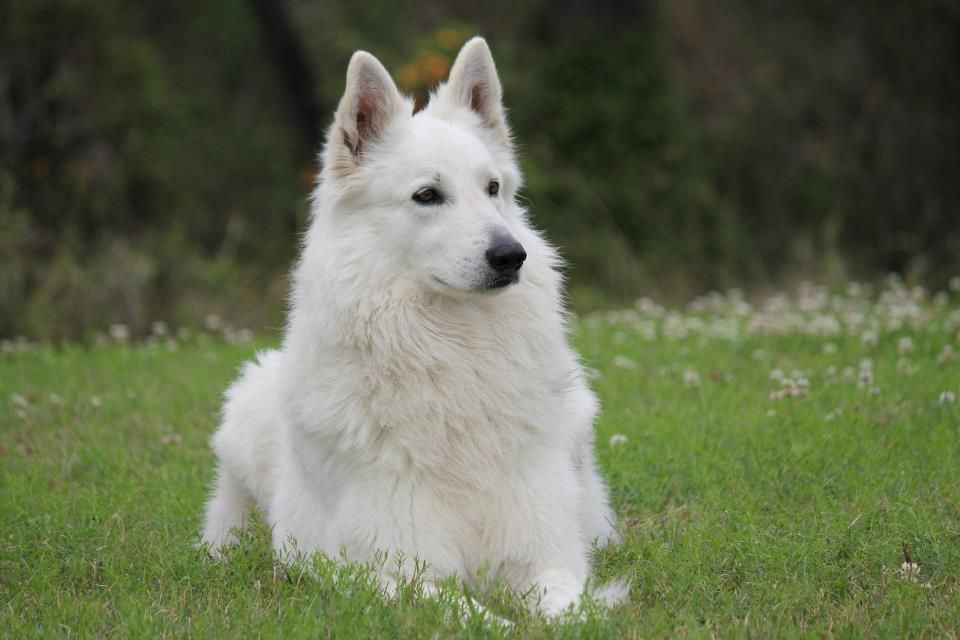 Owner: Rob and Sue Sansbury.
Breeder: Michele van Vuuren of Snowey River White Swiss Shepherds.
Date of birth: 14th July 2006
Hips FCI: Left A2 Right A1 Elbows: 0:0
Height: 64cm Weight: 38kg
VWD1: Clear N/N DM: Clear Haemophilia: Negative DNA Profiled: Yes MDR1: Clear +/+
Sire: Ch Snowey River Luck Dragon
Dam: Ch Snowey River Magnolia Star
Snoweyriver Rain Spirit (Senna) is a stunning White Swiss Shepherd male who migrated with his family from South Africa to Queensland, Australia in 2008.
"Senna's parents are among the most accomplished WSSD's in the South African show ring - his Sire is Multiple Group Winner Ch Snoweyriver Luck Dragon and his dam is KUSA National WSSD 2008 Ch Snoweyriver Magnolia Star. Senna is a gentle and kind natured male who has proven to be excellent with children."
He

is a masculine male with an excellent head and very good stop. He has correct ear carriage, black pigmentation, brown eyes, a straight snow white coat with bushy tail and a harmonious topline with good lay of croup. A medium size, medium boned male with excellent substance (64cm). Good front and hind angulation. Movement spacious and free. An open and friendly male.
Senna was always a puppy of quality & full of fun. Senna's parents and ancestors are well accomplished show dogs born of Kennel 'Snoweyriver' in South Africa. Senna's Sire, Ch Snoweyriver Luck Dragon is undefeated in his breed as the only White Swiss Shepherd Dog to have achieved the title of Multiple Herding Group winner (at All Breeds Championship Shows) and the KUSA National Herding Dog 2004 title in breed. Senna's Dam is the very feminine and pretty Ch Snoweyriver Magnolia Star, a top winning bitch who has achieved the titles of KZN Top Herding Dog 2007 and KUSA National WSSD 2008 among many other achievements in the breed ring in South Africa.
"It's always easy to boast about titles but what about the words 'sound genetics': Senna's sire and dam both have excellent hip dysplasia scores and their ancestors favourable ones too. The parents of both bloodlines incorporate dogs with friendly natures, full of energy, good sporting ability and good health records. Senna himself is a proud and elegant WSSD with a gentle nature who loves his human family in Australia."